Phil Young - Hope Gallery
835 Woodward Ave.
East Haven, CT
(203) 467-1622
All settled in
Thursday April 24, 2008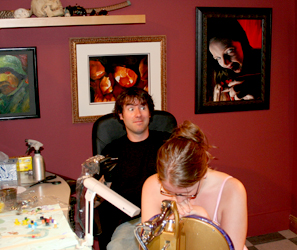 Hey all, just wanted to say everything's great here at Hope Gallery, staying busy, and enjoying the warm weather here in New Haven. Got a lot more pics to update, look for more in the upcoming weeks. I will be at the "Forged in Ink" convention in PA, May 9-11, so if you're out there, look me up. Also, check out the Pin-up show at No Regrets in Naugatuck CT. The opening is April 26th at 7:00 and should hang for another month. I hope to see some of you at the opening. Till next time...