Phil Young - Hope Gallery
835 Woodward Ave.
East Haven, CT
(203) 467-1622
Published! On Paper!
Saturday April 16, 2011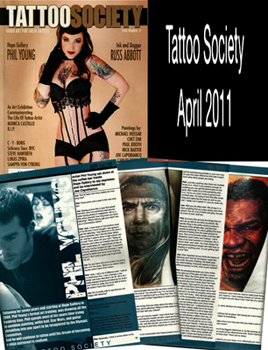 Hey everyone, check out the April 2011 issue of Tattoo Society featuring an interview with yours truly by Joe Capo, and all sorts of interesting stuff about the tattoo community you may not have known, and pictures, lots of pictures; cause' thats what we do.
I"ll be at the Reykjavik convention in Iceland, June 3-5, as well as a guest spot following that at Reykjavik Ink. You can call +354 897 9107 for appointments there.
Its warm, get outside!